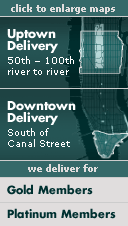 VideoRoom Gold and Platinum members who live within our Uptown and Downtown Manhattan delivery areas enjoy unlimited, free home pick-up and delivery service 365 days a year.
No other video store in New York makes it is as easy as we do to rent and return your videos.
To arrange a delivery, simply call the store nearest you and let us know your VHS or DVD selections. If you need help deciding on a movie, simply ask one of our trained film enthusiasts and they'll be happy to assist.
You can also consult our famous movie catalog or one of our monthly new release updates (both free to Gold and Platinum club members).
To have your movies picked up, give us a call when you're done watching them, and a member of our delivery staff will be dispatched to make the pick-up!
Does it get any easier?